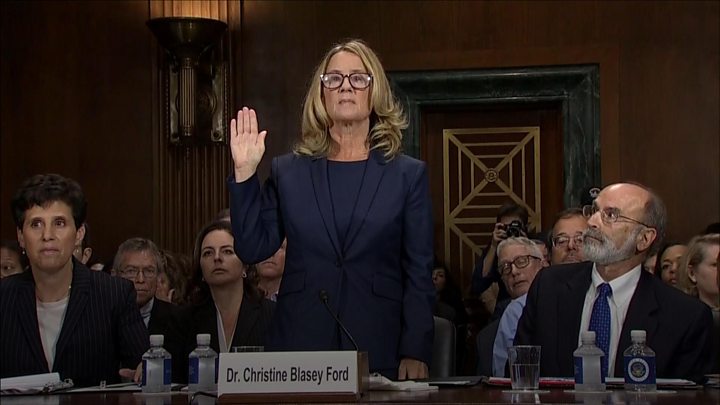 TWENTY-FIRST SUNDAY AFTER PENTECOST
Amos 5:6-7, 10-15
Psalm 90:12-17
Hebrews 4:12-16
Mark 10:17-31
Prayer of the Day: Almighty and ever-living God, increase in us your gift of faith, that, forsaking what lies behind and reaching out to what lies ahead, we may follow the way of your commandments and receive the crown of everlasting joy, through Jesus Christ, our Savior and Lord.
For I know how many are your transgressions,
and how great are your sins—
you who afflict the righteous, who take a bribe,
and push aside the needy in the gate.
Therefore the prudent will keep silent in such a time;
for it is an evil time. Amos 5:12-13
Unless you have spent the last two weeks on another planet, you know what has been taking place in the United States Senate. Dr. Christine Blasey Ford come forward to testify before the Senate, indeed, before the whole world, about the intimate details of the most horrific and traumatizing event in her life: a sexual assault by Donald Trump's Supreme Court nominee, Brett Kavanaugh. For the most part, the Senators, even those who supported the nominee, treated her with courtesy and respect. They all agreed that her testimony was highly credible. Then the Senate went on to confirm Kavanaugh's nomination and he was sworn in as an associate justice of our nation's highest court. This, too, after his delivering an angry, vindictive and paranoid rant about conspiracies against him. The whole travesty was a replay of the confirmation hearing for Justice Clarence Thomas almost three decades ago during which his accuser, Anita Hill, received the same dismissive treatment. Then, as now, the fraternity of old men stood with their male nominee. The voice of a woman claiming sexual assault, however credible, cannot trump the presumptively valid denial of a man.
It is more than a little disheartening that, notwithstanding the many advances women have made for themselves in government, education and the workplace, the same male hierarchical structures and the dismissive mentality among powerful men persists.  Over a century ago, Elizabeth Barrett Browning published her novel/poem, Aurora Leigh. In that book, Browning follows the fortunes of her title character, an aspiring female poet. In one passage that has a sadly contemporary ring to it, Aurora's suitor, Romney Leigh, summarizes his attitude toward her and women writers in general:
Therefore, this same world
Uncomprehended by you must remain
Uninfluenced by you. Women as you are,
Mere women, personal and passionate,
You give us doting mothers, and chaste wives.
Sublime Madonnas, and enduring saints!
We get no Christ from you,—and verily
We shall not get a poet, in my mind.
Given the persistence of aggression against women by men and our society's practice of silencing their cries for justice, I can't help but suspect that Dr. Ford sometimes wishes she had just remained silent. This is "an evil time" and the "prudent" thing is simply to keep your mouth shut.
Anyone familiar with the prophet Amos must know that his words to that effect in the above cited passage can only be understood as deeply sarcastic. Amos was anything but silent about the injustice surrounding him. He, too, was a vulnerable individual, being an immigrant to the Northern Kingdom of Israel from the Southern Kingdom of Judah. When you are considered an outsider, you have to know that meddling in the politics and religion of your host nation will not make friends for you. Keeping quiet about such things is the way of prudence. But for Amos, faithfulness took precedence over prudence. He spoke such words as the land of Israel was "not able to bear." Amos 7:10. Like Dr. Ford and so many women seeking justice, Amos was silenced. He was forbidden to prophesy any longer at the national temple in Bethel and summarily deported. Seeing this, we might well conclude that Amos' big mouth only got him into trouble and that he would have done better taking his own advice to remain silent.
Nevertheless, although Amos' words seem not to have had much impact in his own time, they remain with us today. They helped the broken and exiled people of Israel make sense of the terrible things that were happening to them and gave them hope for a better day. The words of Amos inspired Dr. Martin Luther King and many other leaders in the civil rights movement. As the Letter to the Hebrews reminds us, "the word of God is living and active, sharper than any two-edged sword, piercing to the division of soul and spirit, of joints and marrow, and discerning the thoughts and intentions of the heart." Hebrews 4:12. And as the prophet Isaiah assures us:
For as the rain and the snow come down from heaven,
and do not return there until they have watered the earth,
making it bring forth and sprout,
giving seed to the sower and bread to the eater,
so shall my word be that goes out from my mouth;
it shall not return to me empty,
but it shall accomplish that which I purpose,
and succeed in the thing for which I sent it. Isaiah 55:11-12.
Therefore, in this evil time when it seems as though speaking out can only get us into trouble, we must nevertheless speak. Speak even when you are being shouted down; speak even when you are being ignored; speak even when it is disruptive; speak even when it seems as though your words accomplish nothing; speak even when your voice is shaking and your mouth is dry; speak even when your voice is tired, cracked and worn. Speak the word that is truth and let the chips fall wherever they may. Any one of us can be silenced, but the word of truth can never be erased.
Here is a poem by Langston Hughes that urges us not to succumb to the darkness or acquiesce to evil in silence. It represents, I believe, the spirit of prophesy inspired by visions of the gentle reign of God that moves us to speak throwing caution to the wind.
As I Grow Older
It was a long time ago.
I have almost forgotten my dream.
But it was there then,
In front of me,
Bright like a sun–
My dream.
And then the wall rose,
Rose slowly,
Slowly,
Between me and my dream.
Rose until it touched the sky–
The wall.
Shadow.
I am black.
I lie down in the shadow.
No longer the light of my dream before me,
Above me.
Only the thick wall.
Only the shadow.
My hands!
My dark hands!
Break through the wall!
Find my dream!
Help me to shatter this darkness,
To smash this night,
To break this shadow
Into a thousand lights of sun,
Into a thousand whirling dreams
Of sun!
Source: Selected Poems of Langston Hughes (c. 1926 by Alfred A. Knopf, pub. by Random House, LLC, 1990). Langston Hughes was an important African American voice in the "Harlem Renaissance" of the 1920s. Though well-educated and widely traveled, Hughes' poetry never strayed far from his roots in the African American community. Early in his career, Hughes' work was criticized by some African American intellectuals for portraying what they viewed as an unflattering representation of back life. In a response to these critics, Hughes replied, "I didn't know the upper class Negroes well enough to write much about them. I knew only the people I had grown up with, and they weren't people whose shoes were always shined, who had been to Harvard, or who had heard of Bach. But they seemed to me good people, too."  Today Langston Hughes is recognized globally as a towering literary figure of the 20th Century. You can read more about Hughes and discover more of his poetry at the Poetry Foundation website (from which the above quote is taken).